SPINDLE TOOLING, TOOLING HOLDER AND OPTIONAL EQUIPMENT FOR CYCLEMATIC HIGH SPEED. HIGH ACCURACY TOOLROOM LATHES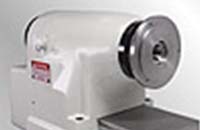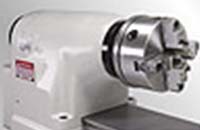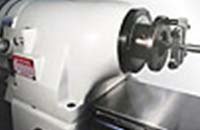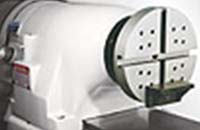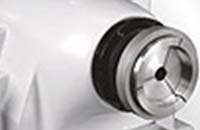 MODEL
CP-27EVS
Spindle Capacity
With Chuck
127 mm (5")
With Expanding Collets
76 mm (3" )
With Round 5C Collets
27 mm (1-1/16")
With Hexagon 5C Collets
22 mm (7/8")
With Square 5C Collets
19 mm (3/4" )
With Step Chucks
27 ~ 152mm(1-1/16-6")
Spindle Nose Diameter
Ø55.5 mm (Ø2.189")
Spindle Nose I.D/O.D
5C (10°) / 4° Tapern
Spindle Speeds (Variable)
50-4000 R.P.M.
Inverter Spindle Motor
1 HP
Hole Through Spindle
31.75mm (1-1/4")
Bar Stock Diameter (5C Collet)
Ø27 mm (Ø1-1/16")
Swing Over Bed
229 mm (9.016")
Compound Slide Travel
Optional X :114 mm / Z :140 mmm
Coolant Pump
Optional
Main Motor
3 HP, 220V, 3PH (standard)
Net/Gross Weight
660/820 lb. (300 / 370 kg.)
Machine Packing Dimension
1,030 × 970 × 1,670 mm (74" × 34" × 73")
All dimensions, specifications and machine appearance are subject to change without prior notice.
CONTENTS:
PURPOSES OF THIS MANUAL
This manual is an introduction to the CYCLEMATIC model CP-27EVS FINISHING LATHE. If you thoroughly read, will get valuable information in the installation, operation and servicing of the CP-27EVS CYCLEMATIC MACHINES.
The manual can be used for reference, because it is necessary to make minor adjustment for maintenance personnel and operators that have dealings with the model CP-27EVS machine.
LIFTING MACHINE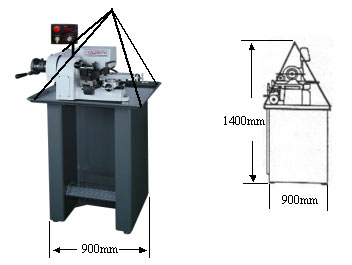 Figure 1-Lifting Machine
Lifting machine, arrange rope or cable as shown in figure 1, and check to see if the correct balance has been obtained. Then insert pads of soft cloth between the edges of the rope and machine. The net weight of this machine is approx 300 kgs (660 lbs). So the rope or cable must be rated at 500kgs (1100lbs) capacity.
A.) ELECTRICAL CONNECTIONS
The CP-27EVS HIGH PERFORMANCE FINISHING LATHE is shipped completely wired and assembled, turn cam switch "A" (Figure 2) to the off position, then check motor voltage, loosen screws "B" (Figure 2), and open the switch case cover, connect the wires from the power source to the terminals (R.S.T.), and ground connection is made at the "C" (Figure 3) which is the electric switch case. Push "START" bottom "D" (Figure 4), turn cam switch "F" (Figure 5) to the forward position, the spindle should rotate counter clock wise. If the spindle does not turn in the correct direction, turn cam switch "A" (Figure 2) to "OFF" position, disconnect electric power source and inter changes any two leads until the turning direction is correct when the spindle is rotation correctly, secure switch case cover, turn cam switch "A" (Figure 2) to on position.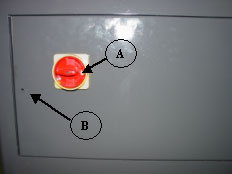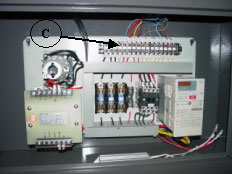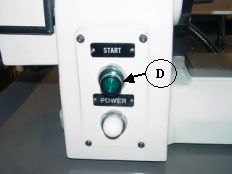 ※ CAUTION:
RUNNING THE MACHINE IN THE WRONG DIRECTION WILL RESULT IN DAMAGE TO THE SPINDLE SPEED CHANGE UNIT.
※ CAUTION:
FILL WITH MOBIL VACTRA OIL NO.2 FOR THE LUBRICATION.
B.) LUBRICATION
Proper lubrication supplied carefully, will maintain the life and performance of the machine for a long period. Therefore, lubricate the machine with a high quality lubricant.
FOR MODEL CP-27EVS EQUIPPED WITH ELECTRONIC VARI-SPEED SYSTEM
C.) SETTING SPINDLE SPEEDS
Push start button switch "D" (Figure 5) on outside of control unit. Release Emergency Switch "E" (Figure 6) turn cam switch "F" (Figure 6) to the forward or reverse position, turn cam switch "G" (Figure 6) to the right to increase speed and to the left to decrease speed.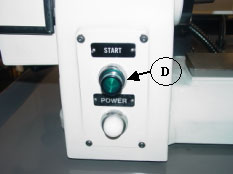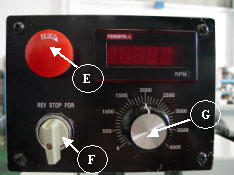 D.) BELT ADJUSTMENT
If belt snap into two piece just remove handle "H" (Figure 7) to the left side and remove belt, after put new belt in to the machine, pull handle "H" (Figure 7) to the right side and tight it.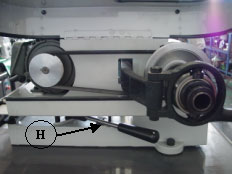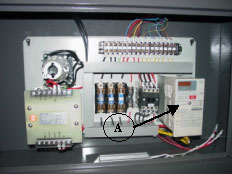 E.) SPINDLE BRAKE
Brake Control by "A" (Figure 8) inverter.
F.) LUBRICATION OF HEADSTOCK
The compound slide rest can be readily applied to the CYCLEMATIC HIGH PERFORMANCE FINISHING LATHE for screw feed precision turning, facing and boring operations. The large diameter feed screws are hardened and mounted on preloaded ball bearings. The feed screw dials are 2〃 in diameter. Both dials give direct readings in thousandths and are adjustable for zero settings.
※ X-Travel 114mm (4-1/2").
※ Z-Travel 140mm (5-1/2").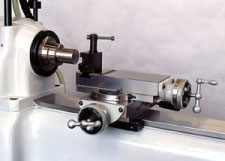 G.) DOUBLE TOOL CROSS SLIDE
The double tool cross slide can be locked at any location on the bed. To relocate cross slide, first loosen clamp screw "S" (Figure 10), then move cross slide to required location on bed and relock clamp screw "S" (Figure 10).
Loosen eccentric lock axles "E" (Figure 11), to change location of tool posts on cross slide.
Move tool post along T-slot and tighten eccentric lock axles "E" (Figure 11), to relocate tool block in T-slot of tool post base loosen nut "N" (Figure 11). Tool holder blocks take standard 9.52mm (3/8") square tool bits, to adjust tool bits to spindle centerline, loosen clamp screw "C" (Figure 10) and turn adjusting screw "A" (Figure 10) to raise or lower cutting tool.
The lever feed handle "L" (Figure 11) can be adjusted to a more convenient operating position, loosen nut "M" (Figure 11) and tap shaft at same end with plastic hammer to loosen taper lock, hole handle required position and tighten nut "M" (Figure 11).
The cross slide travel is limited by adjustable stop screws "O" (Figure 11). To limit travel, loosen lock screw "P" (Figure 11) and turn screw "O" (Figure 11) to required stop location.
Remove screw "E" AND "Q" (Figure 11) move top slide toward operator with lever feed handle to full gear travel. Loosen nut "M" (Figure 11) and tap shaft at same end with plastic hammer to loosen taper lock of handle, Pull top slide off bottom slide, then clean top and bottom slide. Grease gear and lubricate mating dovetail slides with Vactra Oil No.2. To grease lever feed shaft needle bearings, remove nut and washer "M" (Figure 11), and tap shaft at same end with plastic hammer to loosen taper lock. Remove shaft and bearing liner to grease bearings.
CAUTION:
THE DOUBLE TOOL CROSS SLIDE SHOULD BE CLEANED AND LUBRICATED EVERY THREE MONTHS.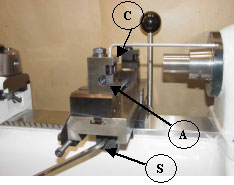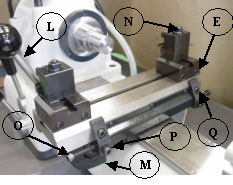 SPINDLE TOOLING, TOOLING HOLDER AND OPTIONAL EQUIPMENT FOR CYCLEMATIC HIGH SPEED. HIGH ACCURACY TOOLROOM LATHES